Crawfish Charters Customer Reviews
Ratings & Reviews Summary -
5.005 reviews
First and foremost, Kenny and Kent are fantastic gentlemen that are a lot of fun to fish with! They still enjoy fishing and will sometimes go fishing without a charter. They grew raised on the island and have been fishing on Fernandina Beach for 40 years. They have a wealth of information. After the first two sites failed to produce edible fish, they moved on to another, and sure enough, we began catching Reds in the slot that we could keep. We also caught as many Red Snappers as we could and a slew of other fish around the sinking barge. Crawfish Charters comes highly recommended by me!
MS
Mark S.
September 10, 2022
Wonderful journey. Crew with prior experience. I can hardly wait to do it again.
no more
MF
Michele Febbi
August 11, 2018
Awesome!! We recommend highly!! Great day of fishing! Captain Kenny and first mate Al are awesome!!
no more
We were looking for a charter that would go the extra mile so we could bring home some groceries and tug on some beasts from the deep and we did exactly that with Capn Kenny. He has the perfect vessel for it as well. Smooth ride in 2 - 4 ft chop. This capn has been in the newspaper quite a bit for winning tournaments so obviously his knowledge of the area, seasons, and conditions are accurate and you can trust his judgement. Him and his mate were very personable and we had a great trip. Cant wait to go again.
Read More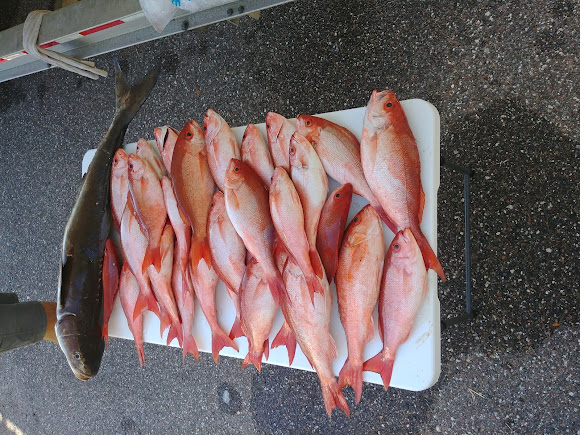 EJB
Elizabeth Jones Button
May 30, 2017
We had the best time every. I have fished all over the world. This was by far our best trip every. The Capt Kenny snd 1st mate Al made our day! One item on my bucket list is marked off we caught 6 foot Sail Fish.
no more
Experience the thrill of the catch with Amelia Island Fishing Charters!
About Crawfish Charters' Business Reviews
Crawfish Charters is your go-to destination for an unforgettable experience on the stunning waters of Florida. Our fishing charters in Amelia Island are among the best in the state, and our unwavering commitment to providing exceptional customer service and world-class guides is unparalleled. We are proud to say that our clients' satisfaction is our top priority, and we always go the extra mile to ensure that your fishing adventure with us is nothing short of incredible.
But don't just take our word for it – hear it straight from our happy customers! We believe that the best way to showcase the quality of our services is through the glowing reviews and testimonials of those who have fished with us before. From families to fishing enthusiasts and everyone in between, we have received countless rave reviews about the amazing experiences our clients have had on our charters.
Crawfish Charters Customer Reviews are provided by our guests. We focus on providing our Amelia Island Fishing Charter guests the very best experience. Our Fishing reviews are from trips in Atlantic Ocean, Amelia Island, St. Marys River, Amelia River, Fernandina Beach, Amelia City